Burham Methodist Chapel: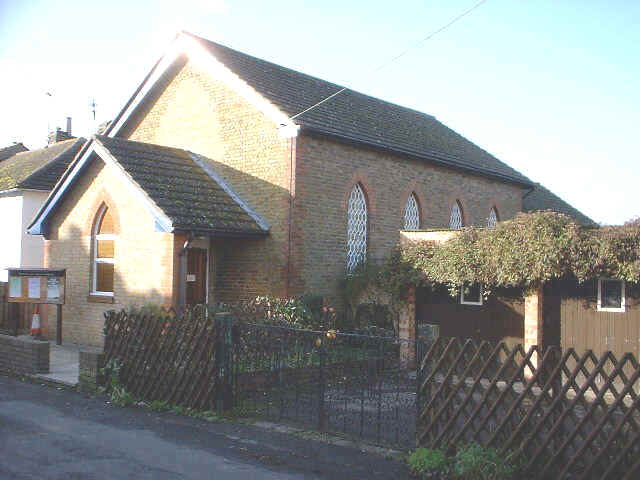 The Methodist Church in Burham began in the home of a Mrs Jane Knott in the early nineteenth century. The Methodist Chapel (above - now known as the Church in Burham and used for most Anglican Services too) was built, funded by public subscription, in 1847 on a piece of land in Church Street donated for the purpose by The Knott family.
In 1863 a Schoolroom extension was built at the rear of the Chapel but was never used for its intended purpose, as a separate School for the children of Methodist families. It has, however, been used as a Sunday School, as well as for various other village activities.
In the late 1970s it became clear that Burham's relatively new Anglican Parish Church of St Mary The Virgin, situated on the corner of Church Street and Rochester Road, had become structurally unsafe; in 1980 it was demolished. The Methodist Chapel offered accommodation for services to the Anglican community, and in 1986 a Sharing Agreement was signed to allow the cost of maintaining the premises to be shared between both church communities. Eventually, arrangements for services also became shared and this led to the Parish of Burham and Wouldham becoming a Local Ecumenical Project.
Prior to becoming the Church in Burham the Methodist Chapel underwent extensive refurbishment. The Pulpit, Altar area and Pews were removed, together with the wooden screen that separated the Church from the Schoolroom (now a general purpose Hall). The Altar was re-sited on the north side of the Church and the whole building was carpeted and centrally heated. A large folding screen now makes it possible to use both the Church and the Hall for services when more space is needed. A modern kitchen was built adjacent to the Hall and new toilets built on the lower floor.
The money to meet the cost of the refurbishment work came from Methodist Church grants, two-thirds of the proceeds from the sale of the land at the site of the demolished Anglican Church and from an interest-bearing loan. The loan was repaid in less than two years thanks to the fund-raising efforts of a small team and the support and commitment of the entire village!
Today the Church premises are always available for use by the community. Regular users include the Mothers and Toddlers Club and the Medway Valley Pre-School playgroup. Past users have included the Guides, Scouts, Cubs and Brownies, and at one stage the building was even used as the local Doctors Surgery!